Please be aware that all of our dishes are prepared to order, and as sushi is particularly time consuming, there may be a wait for sushi orders at busy times. Staff will advise you and we appreciate your cooperation and will do our best to keep waits to a minimum. Ordering a mix of cooked food and sushi, and eating communally will help at times when the sushi chef is particularly busy.
Platters
These are equivalent to a main course in terms of size, or can be ordered to share as a starter between two.  Please note however, especially at busy times, there may be a wait for sushi, see above.
Sakura Sushi Platter

 
£13.80
This combination of raw and cooked toppings is good for sushi beginners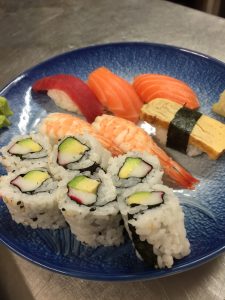 Tuna x 2
Salmon x 2
Tiger Prawn x 1
Omelette x 1
California Roll x 1 (6 slices)
Momiji Sushi Platter £15.80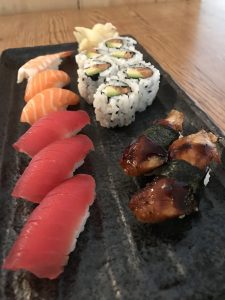 The eternal favourite, one for the sushi fans – with a choice of roll.
Tuna x 3
Salmon x 2
Grilled Eel x 2
Tiger Prawn x 1
Please also choose one of these sushi rolls
*Salmon Avocado Roll x 1 (6 slices)
Or
*Tuna Spring Onion Roll x 1 (6 slices)
Vegetarian Sushi Platter £13.80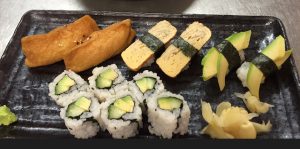 Omelette x 2
Avocado x 2
Inari (rice in a tasty tofu pouch) x 2
Veggie California Roll x 1 (6 slices)
Roll Sushi
We roll all our sushi "inside out", with the filling and nori seasoned seaweed inside and the rice outside. Served cut into 6 slices
*(Please note that many of these contain sesame seeds)*
California Roll (crab stick, and avocado) 4.20
Salmon Avocado Roll 4.50
Eel & Cucumber Roll (grilled eel, basted in a tasty sauce and sliced) 5.80
Tuna Avocado Roll 5.00
Tuna Spring Onion Roll 4.80
Spicy Tuna Roll 5.00
Prawn tempura Roll (2 whole black tiger prawns in tempura batter) 6.20
Salmon Roll 4.20
Tuna Roll 4.80
Veggie California Roll (V) 4.00
Cucumber Roll (V) 3.50
Avocado Roll (V) 4.00
Omelette Roll (V) 4.00
Pepper Tempura Roll (V) 4.50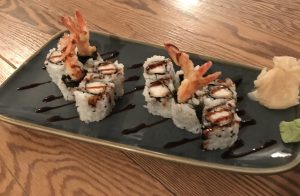 Prawn Tempura Roll
(pic is 2 portions)
Sashimi
Just slices of raw fish, no rice, eaten simply with soy sauce.
These platters are delicate portions and so are not equivalent of a main course.
4/4 Sashimi £8.50 4 slices each of Tuna and Salmon
6/6 Sashimi £11.50 6 slices each of Tuna and Salmon
Hand Rolls
Any of our sushi rolls can be served as a Temaki "hand roll". These are rolled into a cone, with the crispy seaweed on the outside. These are best eaten immediately before the nori goes limp, dip the open end in the soy sauce and munch away , therefore not suitable to share! If you would prefer to share please choose a regular style roll which will be cut up into bite sized pieces.
Take away sushi
For future reference …..
*Available only on our sushi nights.
Ordering ahead, during the day is appreciated, please call or message on Facebook to place your order for evening collection. A copy of the menu is available to take home, please ask staff.